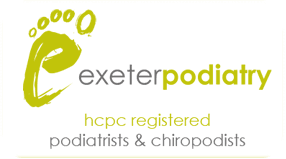 Exeter Physio is delighted to have ExeterPodiatry based at its Exeter clinic. Rob is the owner and clinician for ExeterPodiatry and he works closely with the rest of the team at Exeter Physio.
A Podiatrist (also known as a Chiropodist) is a Health Professional who can deal with the prevention, diagnose and treatment of problems with the feet and lower limbs. Rob treats conditions including those resulting from bone and joint disorders such as arthritis and soft tissue and muscular pathologies as well as those caused by neurological and circulatory disorders.
Podiatrists are able to diagnose, manage and prevent conditions including skin and nail disorders such as the removal of corns and callus and the treatment of ingrowing toenails.
Foot injuries or skin infections gained through sport or other activities are also managed by Podiatrists. Our Podiatrist is HPC registered therefore has acquired qualifications recognised by the NHS
GENERAL FOOT CARE
There are various acute and chronic nail and skin problems that occur within the feet. Podiatrists have specialized equipment to help to remove these as painlessly and effectively as possible for the patient. Advice on self management is also provided if appropriate. These pathologies include:
Corns
Callus
Thick and/or crumbling nails
Fungal Nails
Ingrowing toenails
Verrucae
Skin conditions – athletes foot
AT RISK FEET
Ongoing foot checks enable changes in the circulatory and neurological condition within the feet to be managed. This is essential for those whose foot health needs to be monitored such as those with diabetes, in order to prevent the occurrence of ulcers and further lower limb complications.
NAIL SURGERY
Procedures can be undertaken to remove part of or all of an ingrowing toenail when conservative management is inappropriate. This is carried out under local anesthetic and only after a full and detailed assessment.