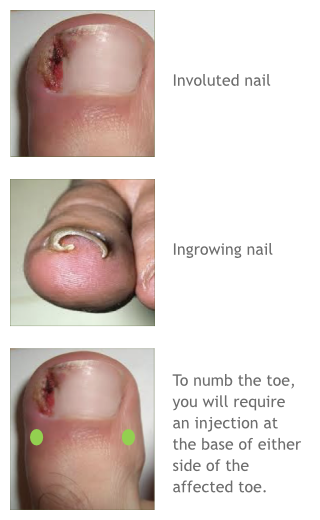 Toenail surgery may be performed where a spike of nail becomes embedded in the skin (ingrowing toenail), or where the nail becomes very curved (involuted) causing high pressure and often a build-up of painful hard skin in the nail groove.
An ingrowing nail spike frequently causes an infection and can be very painful.
If you think you have an ingrowing toenail, you should arrange a podiatry appointment as soon as possible, as ingrowing toenails rarely get better by themselves; the spike of nail must be removed, or the condition just gets progressively worse.
If it is seen early enough, we may be able to simply remove the nail spike with little discomfort. If it is more painful, we can use a local anaesthetic to do this.
You may just need the side(s) of the nail removing, or you may decide to have the entire nail removed. Occasionally, toenails may be removed if they are very thick and causing pain on the nail bed. Toenail surgery is normally not indicated for nails infected with fungus.
A medical history will need to be taken to assess your suitability for the procedure. Before any part of the procedure is commenced, you will be asked to give your written consent.
AFTER THE PROCEDURE
It is best to bring open-toed footwear to wear as your toe will be dressed with a fairly bulky dressing.
Rest with your foot elevated as much as you can during the first 2 days following the procedure.
Keep the dressing on, and keep it as dry as possible, for 48 hours.
During the first week, do not soak the foot; light washing and quick showers are permissible. Dry the area carefully, and apply a new dry dressing.
You may experience some discomfort following treatment, though many people report no pain at all. Any pain is usually temporary, but you may take paracetamol if necessary, following the instructions on the packet. You are advised to avoid aspirin or other non-steroidal anti-inflammatory drugs, such as ibuprofen.
IMPORTANT INFORMATION
AS YOU HAVE HAD AN ANAESTHETIC, YOU MUST NOT DRIVE FOR AT LEAST 3 HOURS.
YOUR INSURANCE WILL NOT BE VALID, SO ARRANGE FOR SOMEONE TO TAKE YOU HOME.
If you have any queries, please email us: [email protected] or phone: 01392 211066